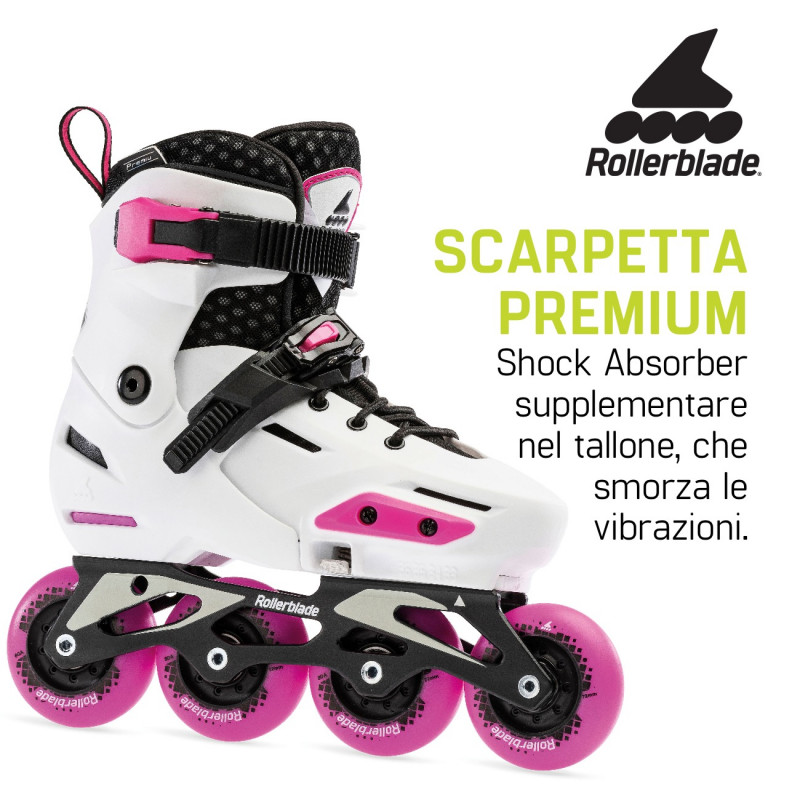  
GESTIONE PAGAMENTI
Tutti i tuoi pagamenti telematici, saranno gestiti da PayPal, in nessun caso avremo accesso ai dati.
SPEDIZIONI
Per tutte le spedizioni ci serviamo del servizio espresso del corriere BRT.
Fattura
Se necessiti di fattura ricordati di comunicarci la tua PEC o CODICE UNIVOCO.
APEX G-KIDS URBAN
MOLDED BOOT SUPPORT, ADJUSTABLE SIZES, PERFORMANCE
Apex G is a higher-performance urban and freestyle skate for kids. The molded, vented shell paired with a Premium Jr. liner provides exceptional protection and support. Lateral slider plates, a secure buckle closure system and frame length paired with corresponding matte-black finished wheels ensure ideal maneuverability. Adjustable sizing; brake included, optional. Apex is a top choice for high-style and premium comfort in an urban skate for kids.
FEATURES:
• SUPERIOR MOLDED BOOT - Supportive shell with vented breathability
• SECURE CLOSURE SYSTEM - Dual buckle and laces
• PREMIUM LINER - Supplemental heel shock absorber dampens vibration
• EXTRUDED ALUMINUM FRAME - Lower center of gravity provides stability and versatility; lengths are: 207mm(185), 219mm(210) and 231mm(235)
• ROLLERBLADE URBAN JR WHEELS - Specific matte wheel per skate size: 68mm(185), 72mm(210) and 76mm(235); SG7 bearings.