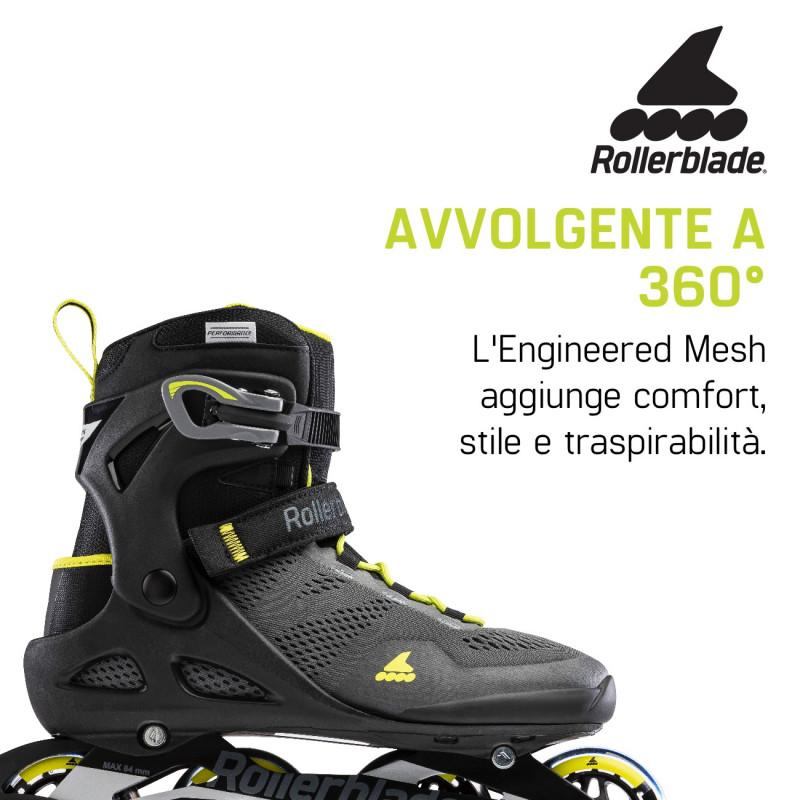  
GESTIONE PAGAMENTI
Tutti i tuoi pagamenti telematici, saranno gestiti da PayPal, in nessun caso avremo accesso ai dati.
SPEDIZIONI
Per tutte le spedizioni ci serviamo del servizio espresso del corriere BRT.
Fattura
Se necessiti di fattura ricordati di comunicarci la tua PEC o CODICE UNIVOCO.
MACROBLADE 80
BREATHABLE, MANEUVERABLE, LOW CENTER OF GRAVITY
Macroblade 80 is designed for men and ideal for casual skaters looking for an enhanced entry-level skate of higher quality. The secure boot structure, padded liner and an upgraded engineered mesh provide sock-like comfort and lateral support. An aluminum frame improves performance by adding more power transfer and durability. 80mm Performance wheels with SG5 bearings benefit speed as skills advance, upgradable to higher-performance supreme or hydrogen wheels with skater proficiency; brake is standard. Macroblade is an exceptional value for a novice skater.
FEATURES:
• IMPROVED FITNESS - Designed for casual inline skating and entry-level training with secure support
• FLEX & LATERAL SUPPORT - Higher cuff provides added security for balance and secure foot hold
• FORM FIT PERFORMANCE LINER WITH ENGINEERED MESH - Comfort padding and breathability in the tongue/ankle areas with buckle, power strap and lace closure system
• TWINBLADE ALUMINUM FRAME - Durable 264mm/10.4" - 279mm/11" low-profile design for enhanced balance and stability
• ROLLERBLADE PERFORMANCE WHEELS - 80mm/82A wheels and SG5 for better wear and moderate speed; upgradable to 84mm wheel for added speed.